comprehensive solution for collaborative project management
The Sitetracker Platform
---
Sitetracker is the only solution that delivers real-time collaboration, automated reports, and forecasting for site-based project management teams.
Plan high-volume, distributed projects
Evaluate potential project sites in geographical and historical context. Create project plans that take into account resource planning and availability. Use Vendor Analytics to connect project timelines with historical performance. Accurately forecast milestones at individual sites or through entire portfolios.
Accurate project forecasting
Vendor analytics
Candidate site evaluation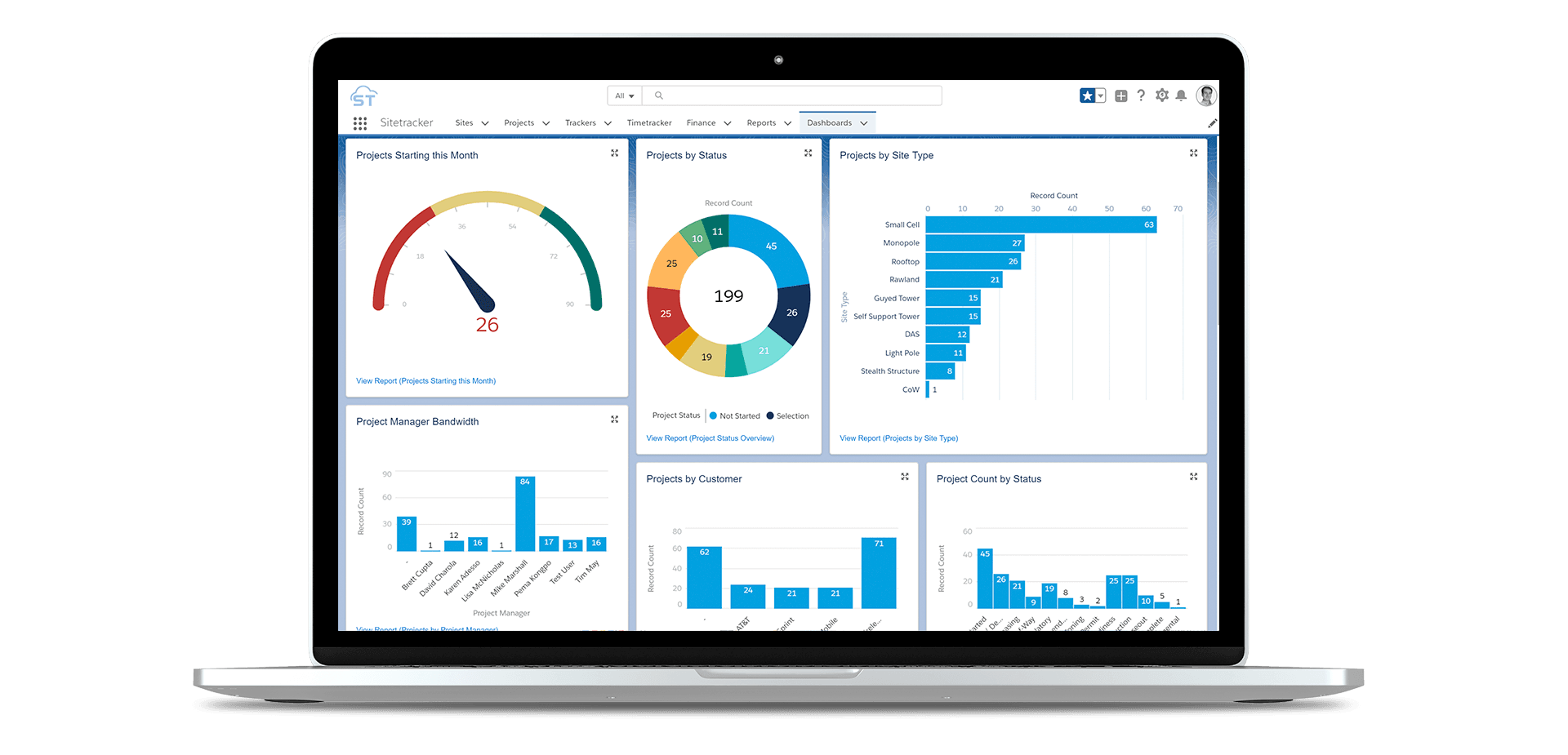 ---
Deploy critical infrastructure plans
Manage entire portfolios of high-volume projects with Intelligent Project Templates. Report on projects in real-time with powerful reports and dashboards. Update multiple projects at once with Trackers. Stay on top of project financials with instant insight into expenses and revenues.
Intelligent Project Templates
Trackers and real-time reporting
Unified project financial information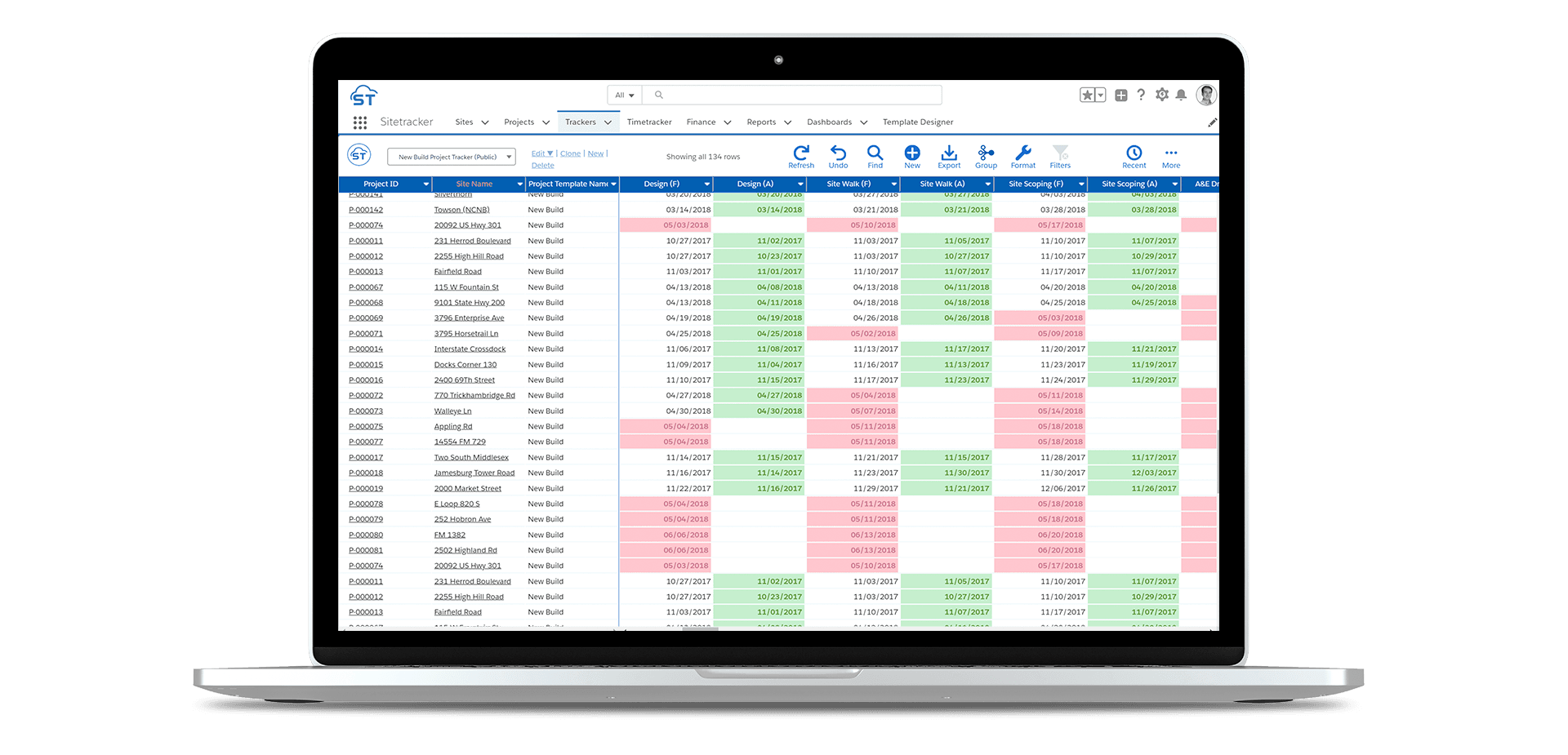 ---
Maintain sites and assets
Get live, cross-functional, consolidated site and asset updates. Keep assets in working order and in compliance with regulatory requirements. Address issues with 100% confidence with real-time information flowing between internal and external groups 24/7. Quickly make maintenance decisions with the most up-to-date data. Track project tasks, in the field and in the office, and enable project teams to work together seamlessly. Realize an unparalleled level of operational efficiency.
Automatic service scheduling
Maintenance task tracking and management
24/7 access to project information
Collaborative work management
Track time spent on tasks in the field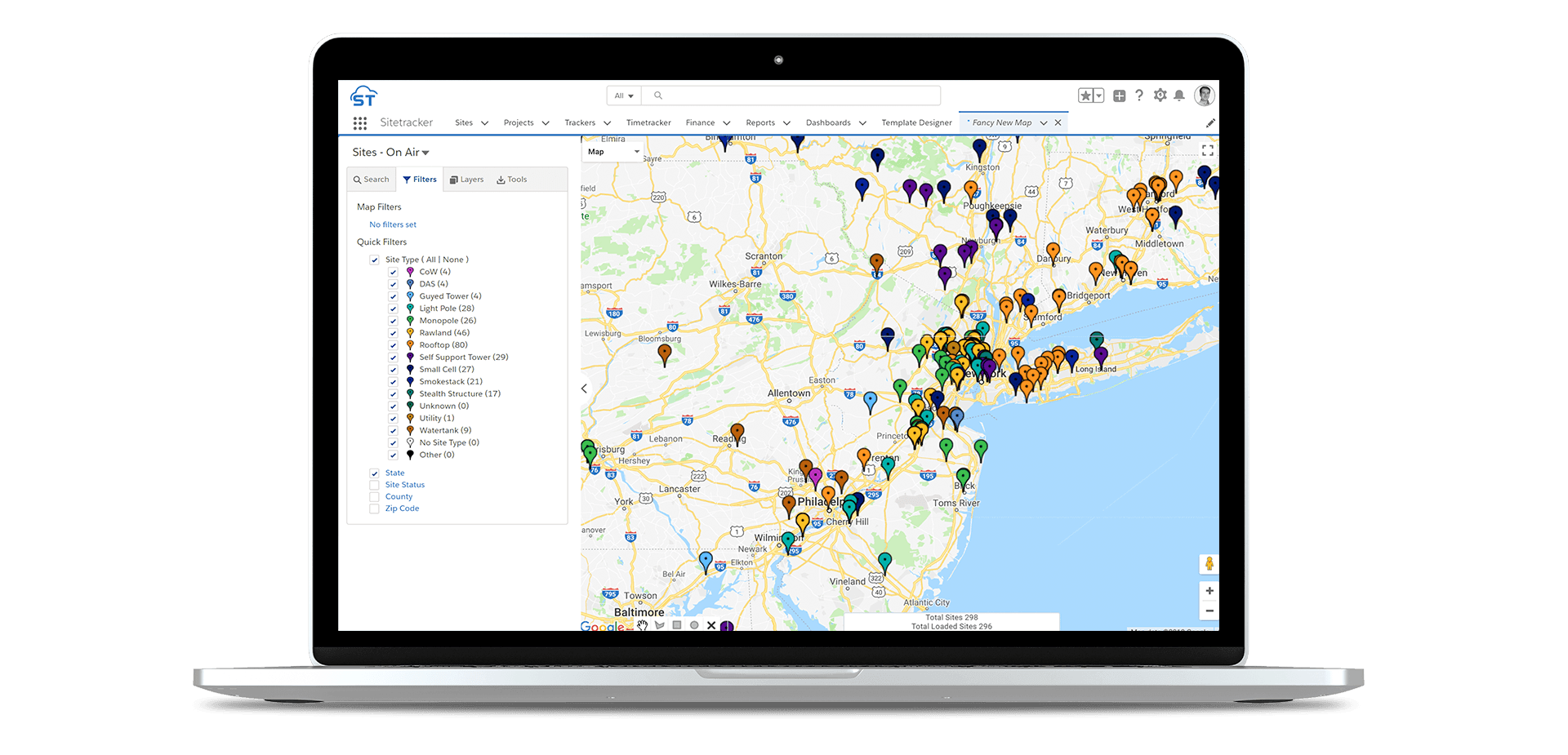 ---
Grow your business and project volume
Maximize the value of your assets and shorten time to revenue by managing post-deployment activities. Get management tools for maintenance, upgrades, and marketing together in one cloud-based platform. Optimize processes with automatic scheduling and assignment. Quickly share user-friendly maps to market sites to potential lessees and other customers. Sitetracker is scalable and delivers outstanding efficiency for companies of any size. By choosing Sitetracker, you're choosing operational excellence.
Project portfolio management system
Location intelligence and embeddable maps
Comprehensive data archive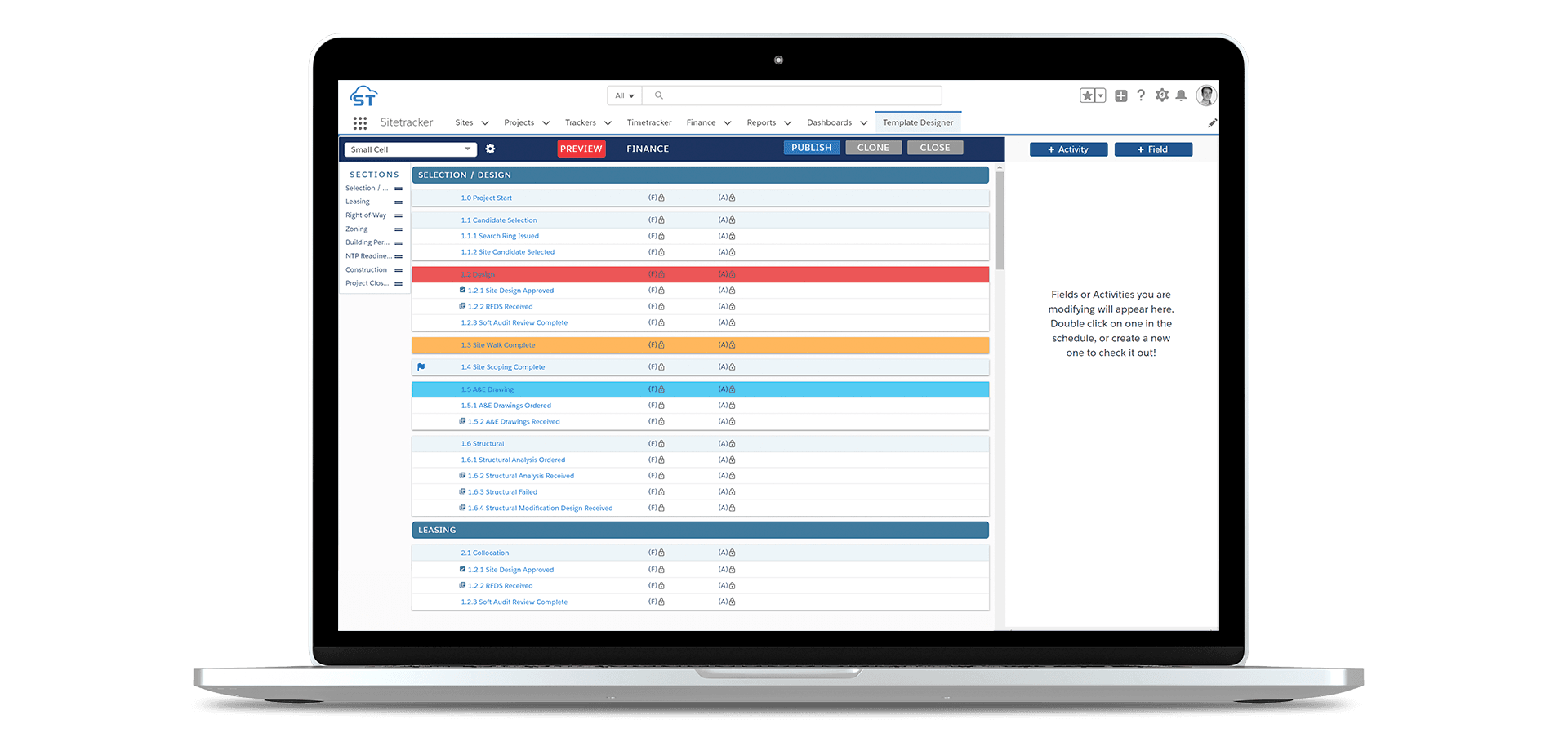 Product deep dive
Dive into Sitetracker
---
Learn more about the Sitetracker platform
Trusted for collaborative project management
Leverage a proven project management software platform
---
The world's most innovative companies use Sitetracker to manage their high-volume projects.
$19 Billion+
Assets managed in over a million projects
80%
Less time creating reports
Introducing Sitetracker Work Management
Work management is all about maximizing the value of your assets by dispatching the four R's – the right person, at the right place, at the right time, with the right tools – to improve cycle times and asset longevity. Sitetracker Work Management empowers teams to work together efficiently to ensure the fastest deployment, maintenance, and break-fix resolution cycles in the industry.
Learn More now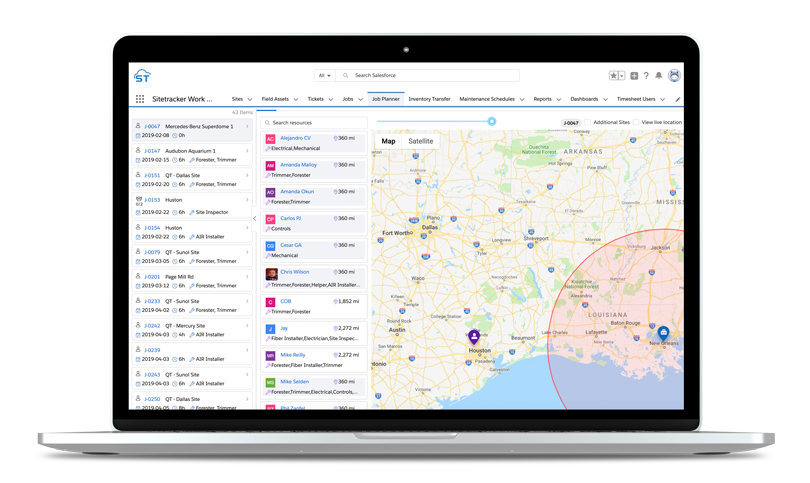 Hear from our happy users
---
Join the thousands of industry leaders who use Sitetracker to bring critical infrastructure to life
Why choose Sitetracker as your project management solution?
Increase project team efficiency and productivity
---
The Sitetracker Platform, a full-lifecycle solution, delivers projects under budget and 4X faster than industry benchmarks.
Scale
Customizable Intelligent Project Templates make your team an efficiency powerhouse.
Forecasting
Use the power of predictive analytics to accurately forecast project and business expenses and revenues.
Collaboration
No matter the team – internal or contractor – native integrations make workflows seamless.
Security
Ensure the right people get the right information with multi-level security protocols.
Reporting
Quickly view data dashboards and drill-down to real-time reports.
Insights
Share project information with any business intelligence platform to directly connect projects to profits.
Customer success
We're your partner in long-term project success
---
Our dedicated Customer Success team provides professional services to support you at every step. As your business evolves, so does Sitetracker. Continuing support and enhancement ensure that your technology and processes remain aligned. Our job is to make sure you can grow and seize market opportunities.
Painless software implementation
You and your team will be managing high-volume projects in the Sitetracker Platform in weeks, not months. We built the project management solution your business requires, down to the smallest detail, so you can manage projects effectively. The implementation process consists of five parts:
Kickoff
Build & Test
Train
Go-Live
Support
Sitetracker Implementation ensures that your organization is working on a platform built for growth. This enables your team to realize value quickly and scale effectively. A training custom plan is created for each customer. An implementation training analyst will deliver a general training to all users. The analyst will also identify targeted training areas for different user groups depending on customer need.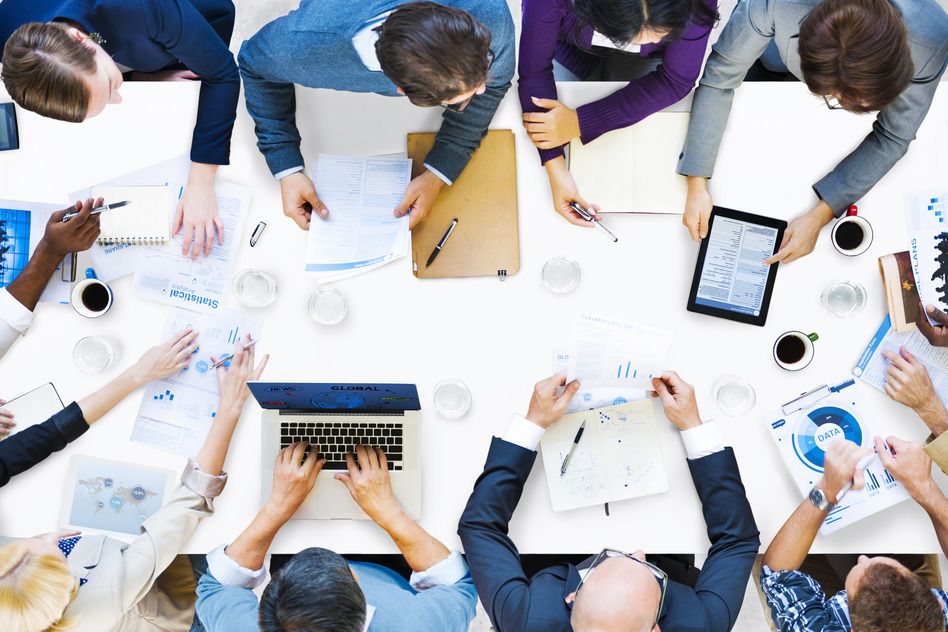 ---
Ongoing support
Your teams will come out of the implementation process well prepared to manage projects efficiently. Hands-on training ensures that your entire team is trained on essential functionality. We ensure that you can always get the most out of Sitetracker as your projects, and business, evolve and grow. Sitetracker user education and training resources ensure a smooth go-live and strong user adoption. On-demand training videos, recorded webinars, and extensive documentation put help just clicks away. Sitetracker Customer Success provides advice, best practices, and technical expertise. Ongoing training and refinement enables on-time and on-budget projects and accelerated time to revenue. We work closely with our customers as partners to deliver the right solution. This approach ensures widespread adoption, maximizing your investment in Sitetracker.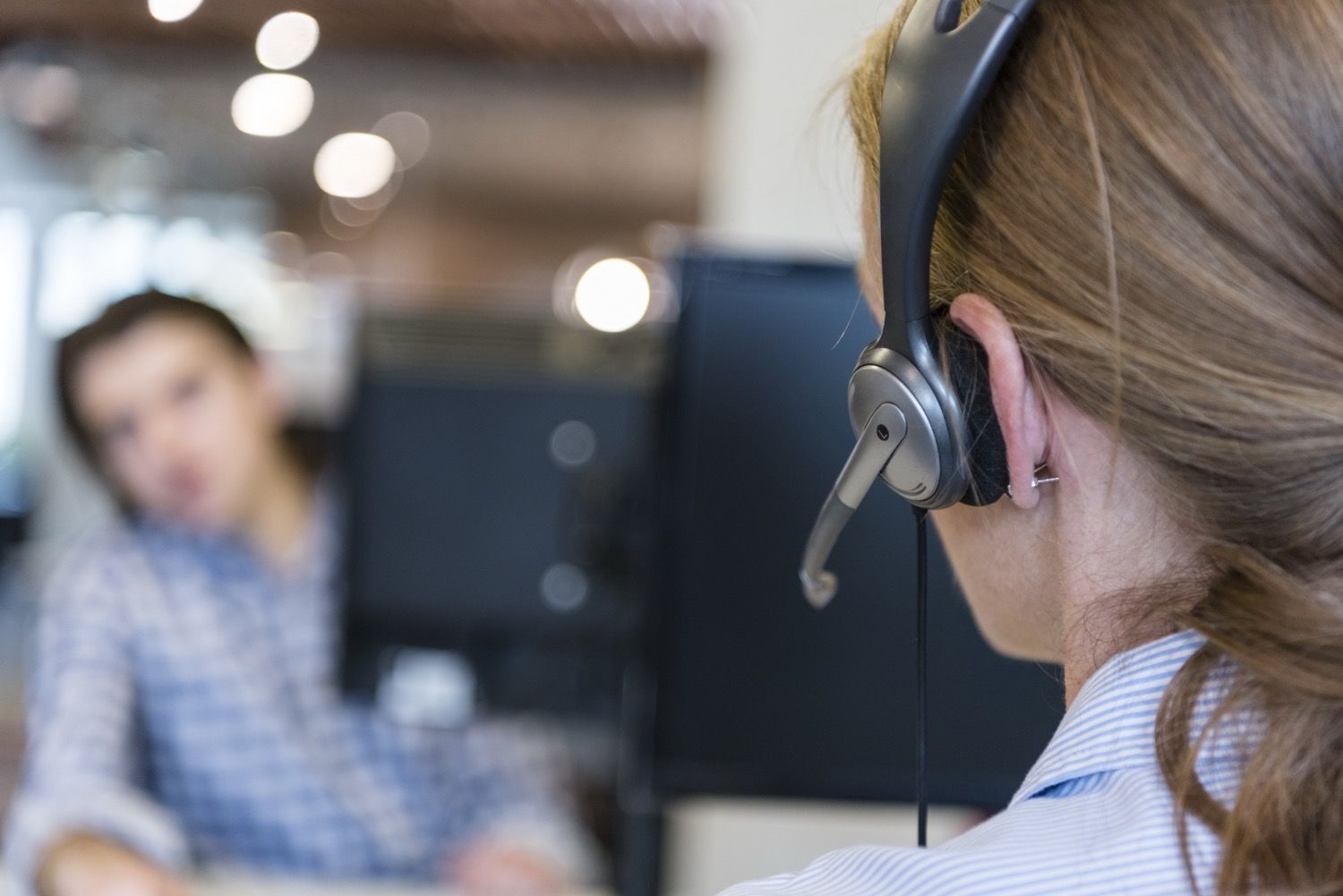 Demo the most trusted project management platform today
See for yourself why industry leaders choose Sitetracker
---
Get a demo today
Manage telecom, utility and smart city projects with Sitetracker
Plan and deploy your high-volume critical infrastructure projects. PMO leaders across industries trust Sitetracker to deliver projects in-time and on-budget.
Powerful project management for you and your team
Telecom
Telecom companies manage projects ranging from small cell installations to tower construction. All of these projects have a couple things in common: they are site-based and repeatable. Sitetracker lets project managers manage telecom projects without having to recreate the wheel for each new build or installation.
Sitetracker + Telecom
Powerful project management for you and your team
Utilities
Utility projects such as pole maintenance, smart sensor installations, and more require a management platform with capabilities across planning, deploying, and maintaining assets. We know that work doesn't just happen in the office, so we built a native mobile app. This ensures that all your data is in one place.
Sitetracker + Utilities
Powerful project management for you and your team
Smart cities
Wifi kiosks, digital advertising, smart sensors, and more are becoming the norm. Companies who are building the smart infrastructure of the future need a project management solution that meets their innovative standards. Sitetracker is constantly improving the platform to equip PMs with the management tools they need for an increasingly connected world.
Sitetracker + Smart Cities
Powerful project management for you and your team
Renewable energy
Solar panels and other alternative energy infrastructure are being rapidly deployed, maintained, and updated on a monumental scale. Leaders in this burgeoning industry will excel if they choose operational efficiency while making energy production more efficient.
Sitetracker + Renewable Energy
Powerful project management for you and your team
Media
Digital advertising and other creative media projects, like billboards and bus and subways ads, can be complex. Each new venue for digital advertisement is composed of hundreds of steps installation — the management process can become complex.
Sitetracker + Media
Powerful project management for you and your team
Retail
Retail stores, whether permanent, seasonal, or popup, are comprised of hundreds of tasks.
Sitetracker + Retail
Powerful project management for you and your team
Government
Sitetracker enables agencies to manage complex, high-volume government infrastructure projects with the world's most complete full-lifecycle platform. Citizens expect the same level of service from their government as they do from large tech companies, now. With the right management tools, you can deliver it.
Sitetracker + Government