Overview
Actionable Insights for
Every Level of Your Organization
With configurable and out of the box reports and dashboards, you always know what's happening across your business. Any data point in Sitetracker is at your disposal to make informed, agile decisions.
From spreadsheet and pivot table styled overviews to at-a-glance graphic summaries, you can get the data you need exactly how you need it. That means reporting that works for advanced data teams and busy C-levels that need the headline insights.
Report Holistically
Automatically organize funding, project progress, and inventory data according to key milestones.
Keep Organization Leaders Informed
Schedule reports to automatically publish and distribute critical information to specific users or groups.
Customize Data By Role
Not all data is relevant to every stakeholder. Create custom reports and dashboards that show everyone exactly what they need to see, when they need to see it.
Track Vendor Performance
Accurate performance tracking ensures you're always selecting the right vendors for the job.
Gain timely, accurate updates from vendor progress in the field.
Audit processes and standards to maintain alignment across your partners and internal teams.
Review vendor performance with project quality to maximize customer satisfaction.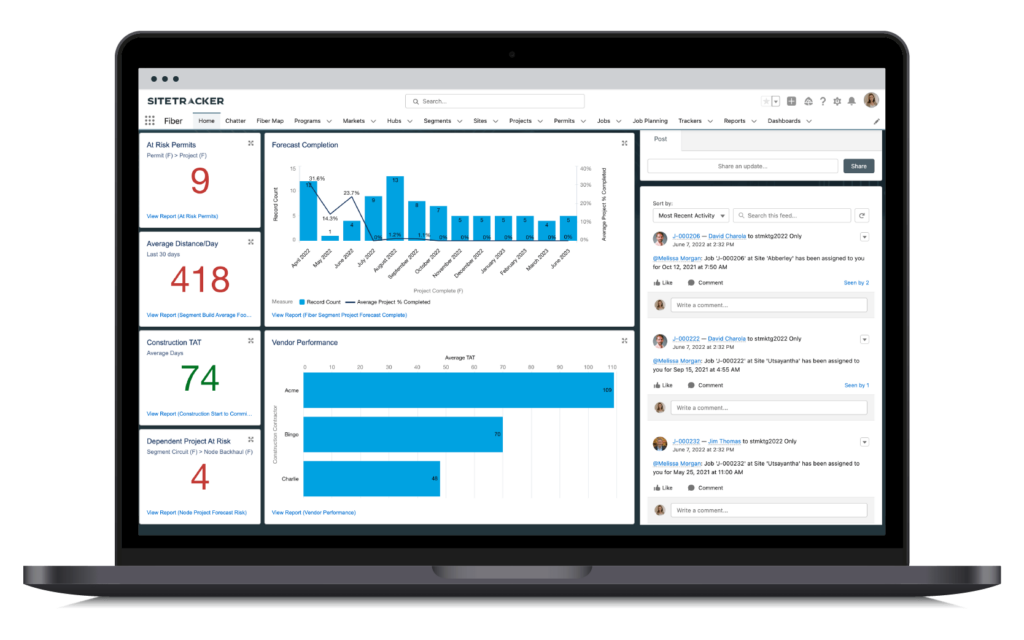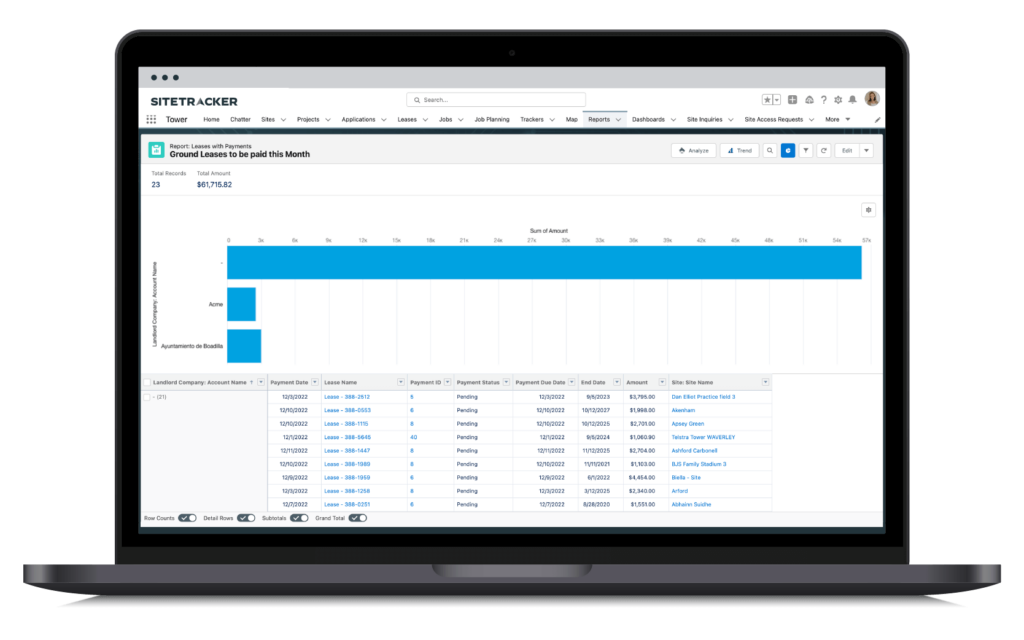 Maintain Profitability
The financial health of your business relies on seamless, effective management of your key processes.
Accurately track expenses across your business, from materials to resources and more.
Track project progress and budget to ensure prompt time to payment.
Review the holistic financial health of your business in one view.
Avoid Slowdowns
Project slowdowns hinder operational efficiencies. Keep your company proactive and prevent process breaks before they happen.
Review project progress through forecast and actual dates as well as project duration directly from your dashboard.
Proactively address potential roadblocks like inventory shortages and permitting roadblocks.
Analyze your entire portfolio in one place to identify inefficiencies and quickly find solutions.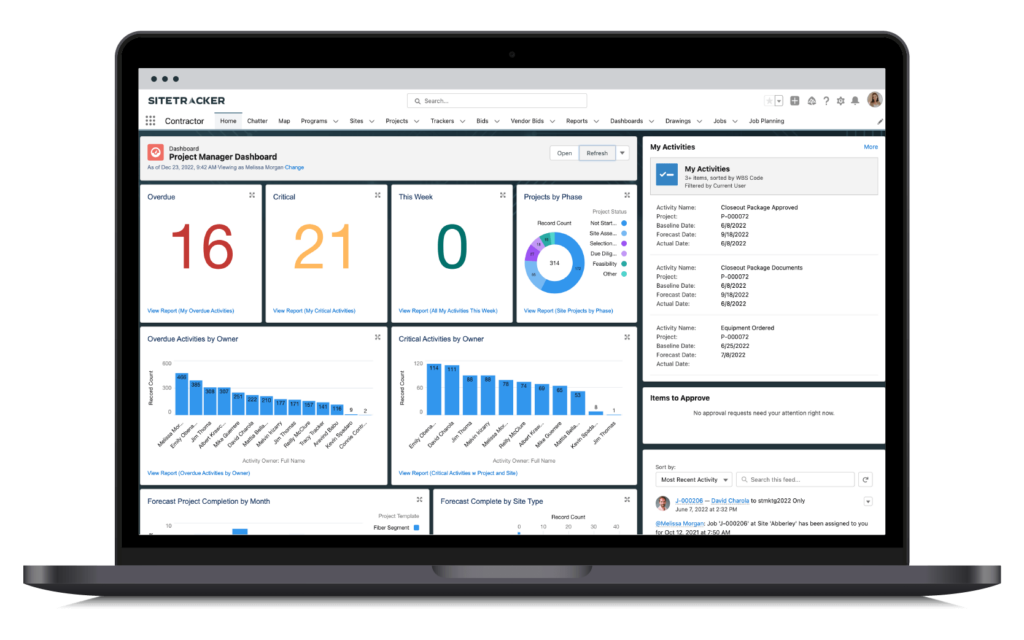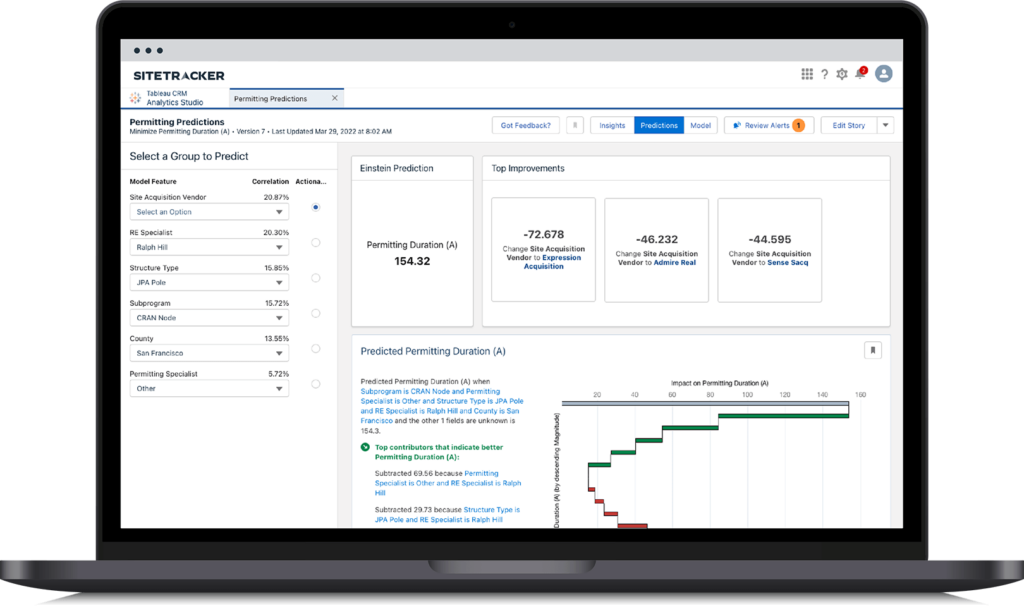 Go Further with Sitetracker Business Intelligence
Improve your operational strategy and reduce cycle times using actionable insights from the Sitetracker Platform, Salesforce Analytics and Einstein technology.
Make good decisions quickly with advanced reporting, dashboards, and data visualization tools as your business and projects scale.
Easily find the answers to important questions such as turnaround time, utilization, and resource allocation.
Automate reporting tasks and quickly identify trends and patterns.
Build with Salesforce Einstein to create predictions that help you understand project turnaround times and protect margins.
The Right Data is Critical for High-Volume Deployments
You can only act on what you know. Sitetracker's Reporting and Analytics suite brings you the clarity and insights you need to act fast and ensure your business is operating smoothly and profitably.
Never miss what made a project great, and never repeat what slowed you down. With reporting and analytics for users and stakeholders, you'll always know what's happening in your business.
You should be confident in the accuracy and quality of your data; let us show you how to get there.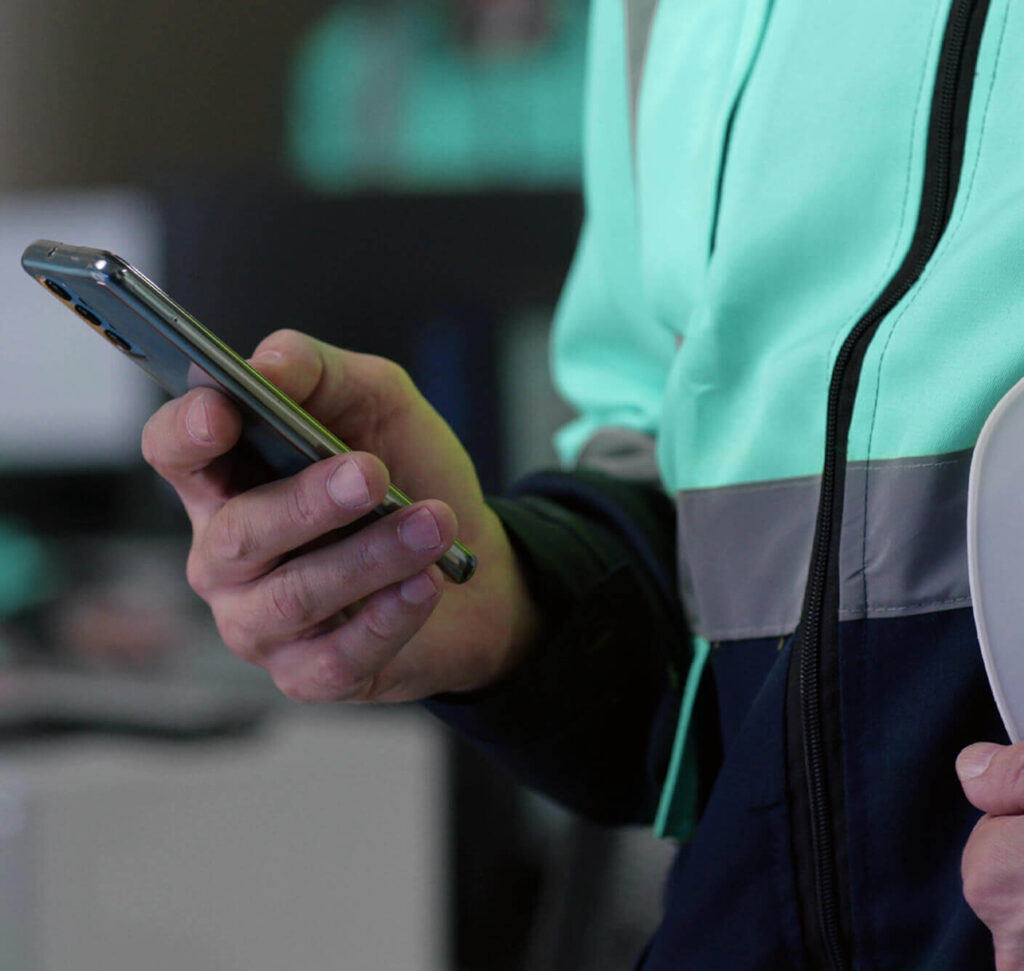 Learn More
Resources
3 steps to improve operational efficiency for 5G project management

6 pro tips critical infrastructure project managers need to know

Project managers, here's what your managers want to know that you're not telling them.