Overview
Sitetracker Platform
If the last few years have taught us anything, it's that being flexible is critical to business success. Selecting a native cloud platform lets your team focus on strategic business areas instead of managing time-consuming upgrades, reporting, and custom IT work. The Sitetracker Platform is built on Salesforce providing smarter technology like AI and analytics to improve business outcomes.
Benefits
Choose Proven Technology
Reduce Risk & Increase Security
Start from enterprise-grade security owned, operated, and secured by Salesforce, a Fortune 500 company. Introduce a template engine, document management, and dynamic forms on mobile to improve compliance and safety.
Operate With Intelligence
Embrace a native cloud platform that embeds AI and machine learning to do things like help predict project performance and financials. Leverage reporting & dashboards for complete visibility with way less effort.
Adapt Quickly & Extend
Easily configure the Sitetracker Platform to meet your needs and continue to adapt and extend it over time. APIs let you connect to other systems like OSS/BSS, ERP, GIS, and more.
Track High-Volume Work
Leverage Trackers for a spreadsheet-like interface designed to update a large number of projects and sites in real-time, saving you from manually updating hundreds of spreadsheets individually.
Collaborate in real time with a single source of truth on numerous projects, sites, and more
Identify trends that help grow future business
Create personalized views and filter by color to see the right data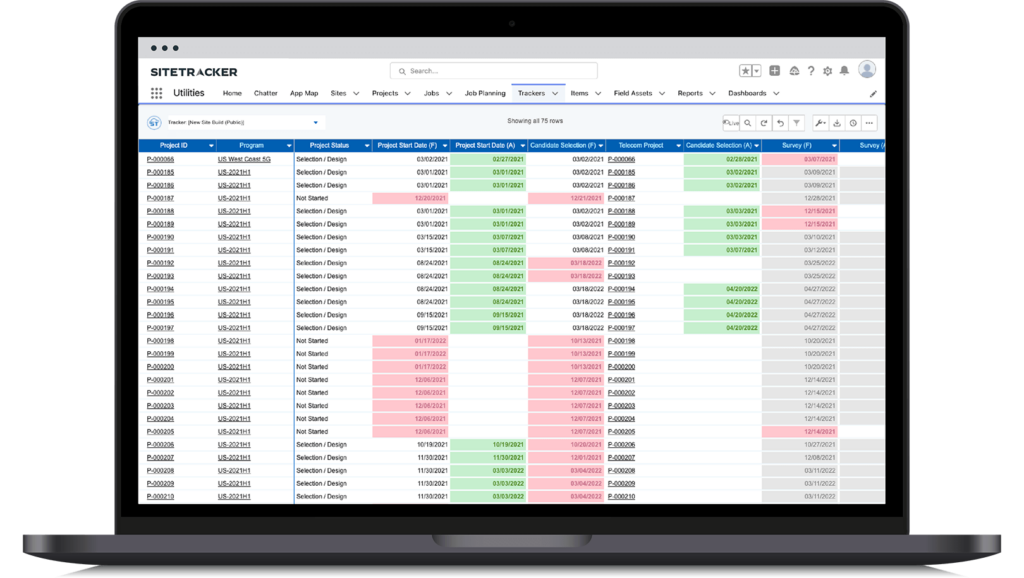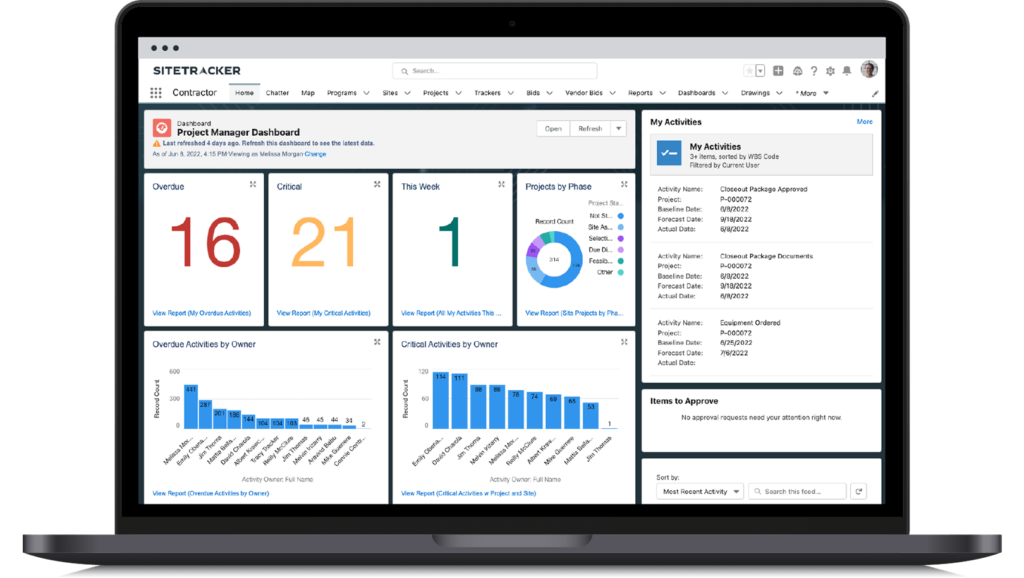 Report & Analyze
Make better decisions and share real-time insights using Sitetracker reports and dashboards.
Standardize reporting by automatically pulling data from projects, improving productivity.
Select the best vendors by accurately tracking vendor performance
Easily create your own custom reports and dashboards to see things like incomplete projects, overdues, or projects by states.
Manage Documents
Manage documents, from job photos to closeout packages, for all stages of a project in one place to work more efficiently.
Easily markup construction drawings, permits, and other documents directly in Sitetracker for easy version control and collaboration
Create accurate closeout documents the moment a project is completed
Generate custom documents with information from Sitetracker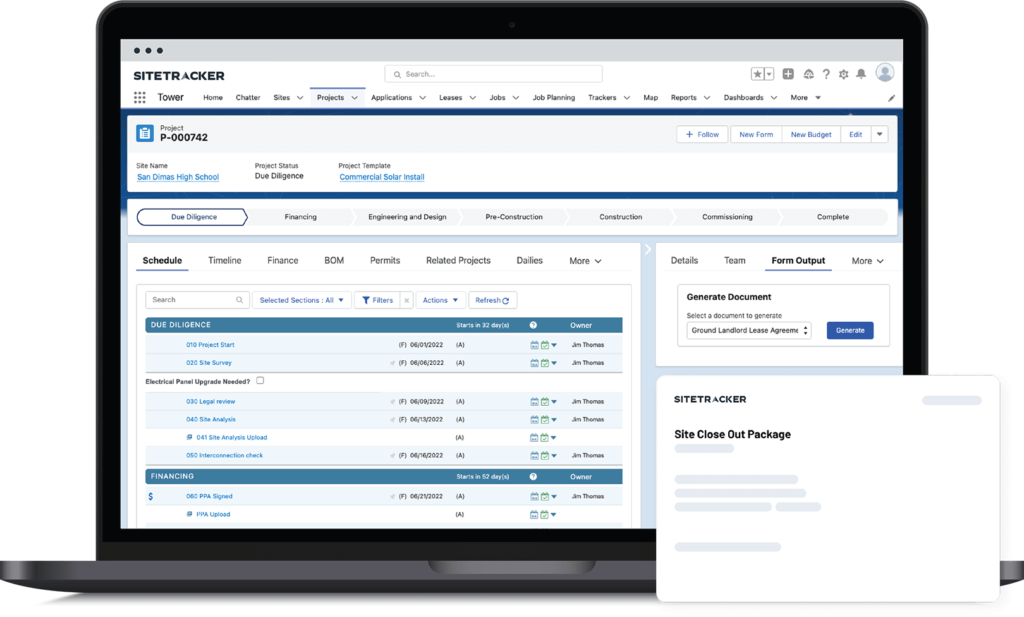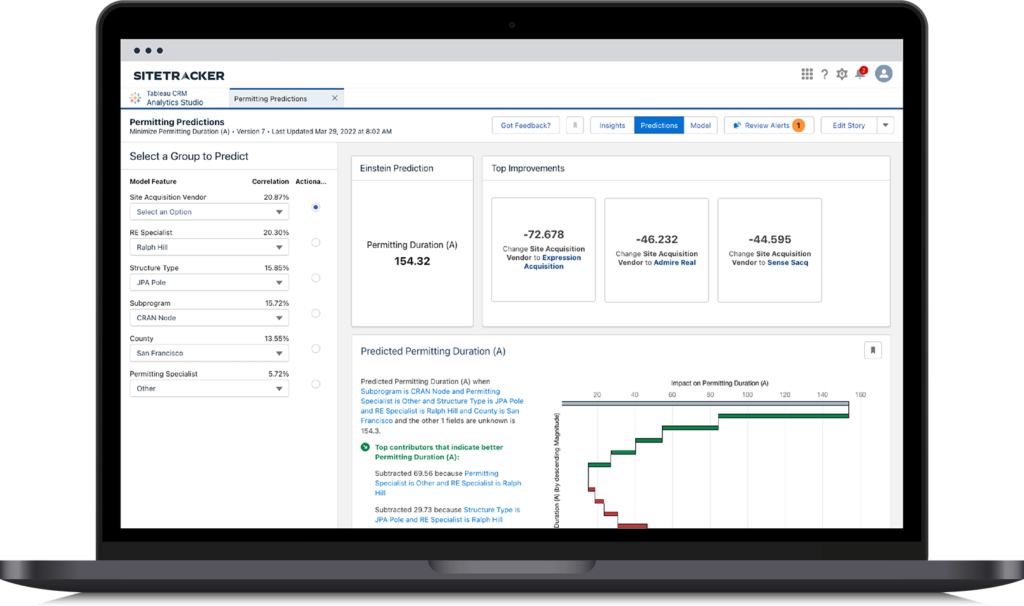 Embed AI & Machine Learning
Realize the power of data science, uncovering new business insights and better visibility with Sitetracker AI to get ahead of the competition.
Get recommended actions to improve your project, finance, or utilization efficiency
Predict project and field performance, company financials, and the utilization of people and assets
Visualize and transform project data on one dashboard, to spot opportunities, prevent bottlenecks, and forecast accurately
Create Automation & Approvals
Automate key business processes such as approvals and notifications to complete work on time, control quality, and exceed client expectations.
Track workflow status and capture annotations, redlined comments, and more from reviewers on a single markup
Easily configure collaborative approval and review processes to meet critical milestones
Define powerful notifications with prebuilt templates sent based on logic to keep projects moving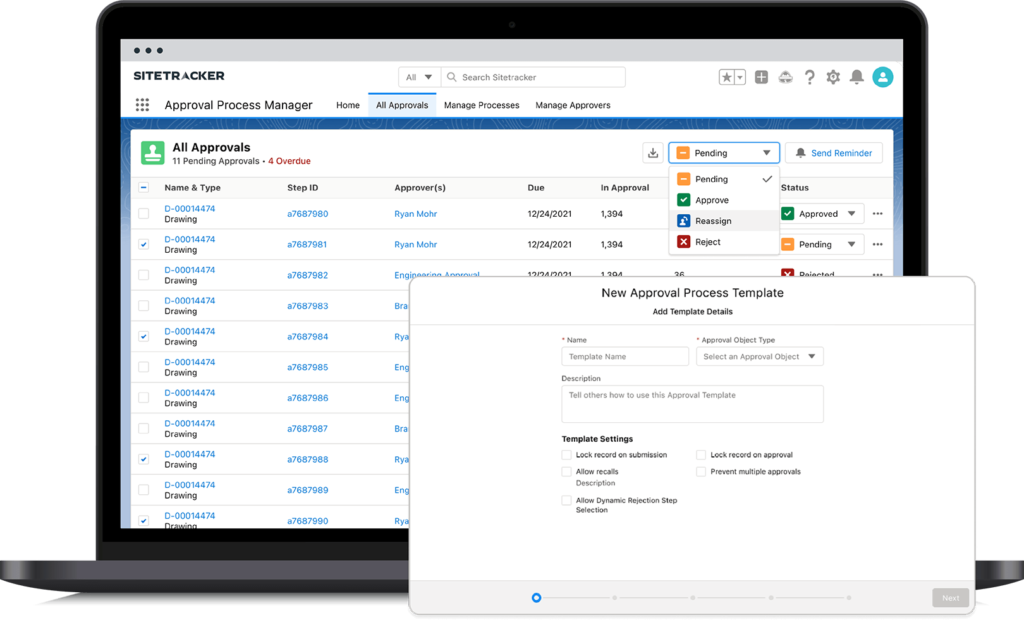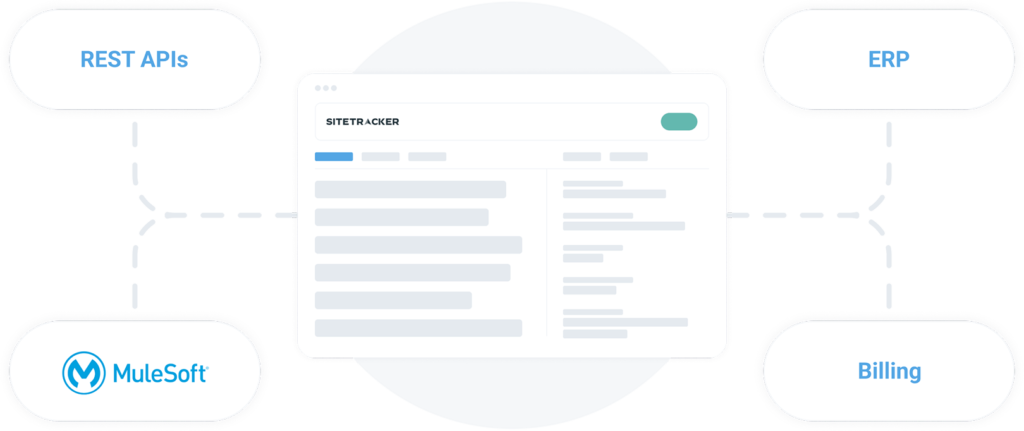 Connect with APIs & Integrations
Start with a platform-agnostic system to bring together mission-critical tools that act as the single source of truth for your entire business.
Integrate via REST APIs for seamless information flow
Leverage MuleSoft to deliver proven integrations to ERP & Billing, GIS, OSS/BSS, IoT/Drones, Security Access, and other systems
Connect to other Sitetracker organizations with Sitetracker to Sitetracker Integration
View Maps & Geolocation
Use geolocation and mapping to put projects and tasks in geographic context, empower field technicians, and easily market assets to potential lessees.
Use advanced mapping and GIS functionality, with support for GeoJSON, KML, and other standard GIS file types
Display formats such as – Point, LineString and Polygon
Easily create a Tracker from a defined map area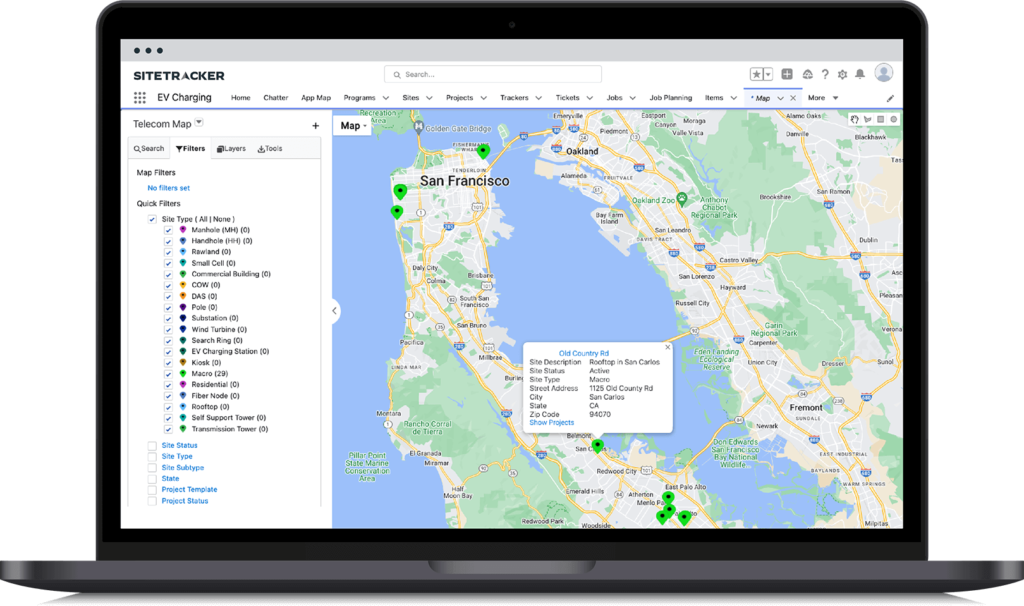 Sitetracker Platform
What Is A Project Tracking Platform?
A good project tracking platform gives you the ability to easily manage numerous projects, sites, and assets. The Sitetracker Platform includes an intelligent template engine, maps and geofencing, spreadsheet-like Trackers, and more to power distributed projects at scale.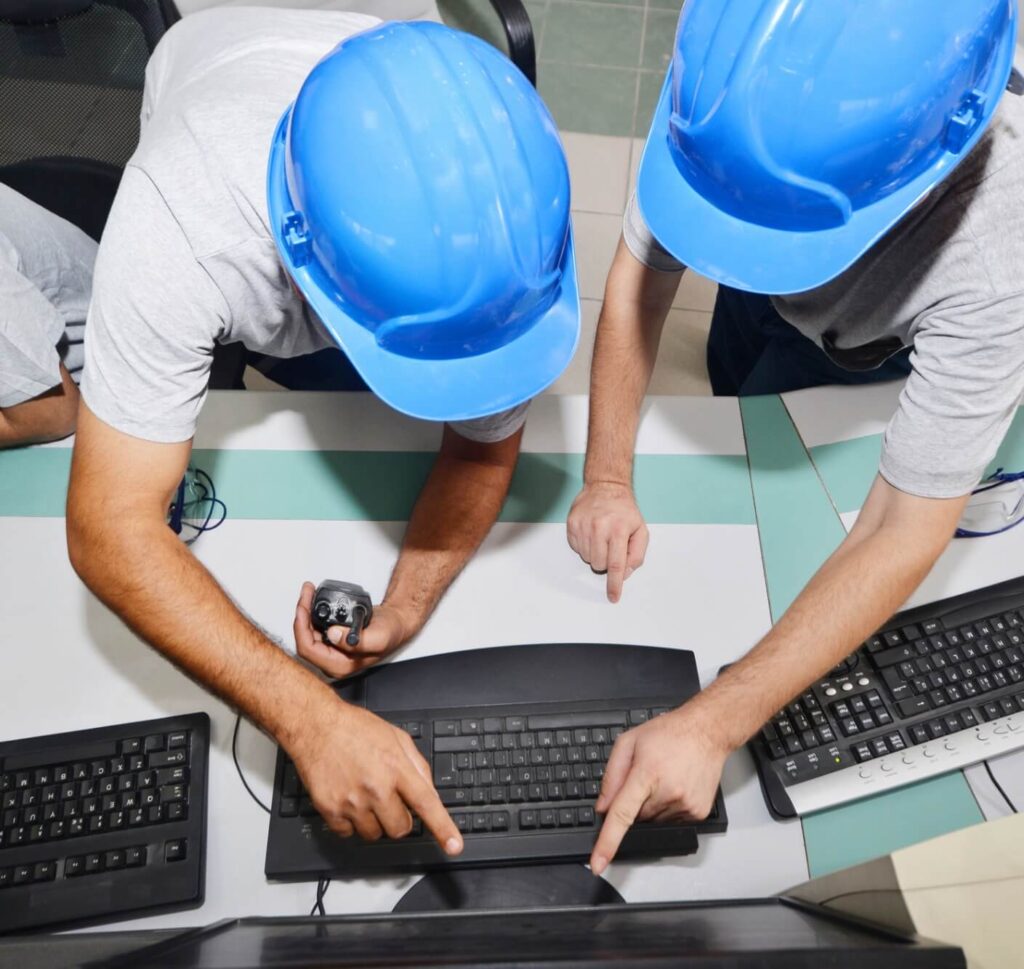 Learn More
Resources
Permission to launch: why project management tools need a unique permissions structure

Using outdated tech to run your projects?

Automate critical infrastructure project forecasting to adjust for the unknown