Name this job: manages 450 to 500 projects at the same time, spends 80% of her time inputting data, creating and distributing reports, and providing daily updates to her clients.
About Stacie Esposito
Stacie graduated from San Francisco State University with a degree in Television and Radio — which is not the typical path to project managing thousands of tower modifications for major carriers. She did, however, start her career in the industry right after college at the recommendation of a friend at T-Mobile.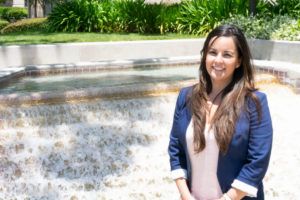 Within two years, Stacie would be helping to manage the launch of UMTS (Universal Mobile Telecommunications System), or 3G, in the San Francisco market for one of the largest carriers in the United States. The constantly changing fast paced environment and strong teamwork have kept her in telecom project management for over ten years, and she has no intention of stopping anytime soon.
This is the life of a top-notch telecom Senior Project Manager, Stacie Esposito from Crown Castle. Sitetracker had the pleasure of sitting down with Stacie to discuss best practices for project management, common pain points, and what she predicts for the future of the telecom industry, specifically relating to project management.
The telecom industry is built on change.
Q&A with Stacie Esposito, Senior Project Manager
What types of projects are you working on?
I work on projects that enable our customers to upgrade their equipment on Crown Castle cell sites. These include projects involving the submission of applications to upgrade cell sites, management of budgets and schedules, coordination of all deliverables and requirements for the entire cross-functional project team, as well as external customer relationship management.
In a given week, I work with numerous internal and external partners include roughly eight different departments, teams, vendors and or PMs in other markets. I cannot stress enough how important collaboration and clear communication are to being a successful project manager.
What are your big priorities over the short, medium, and long-term?
My short term priorities are to ensure projects progress and tasks are completed on time and on budget.
My medium-term priorities are to train my team and educate them on new processes and systems that we will use in the near future to remain competitive.
Long-term, my priorities are to enhance my skills and to continue to collaborate with my colleagues across the business.
Throughout it all, my top priority is to maintain a positive relationship with everyone I work with through establishing and strengthening trust.
How has project management changes during your time as a PM?
The main concepts of project management haven't changed over the years, but the tools and processes have evolved to drive improvements in project success and efficiency. Project management can also be very industry-specific, requiring greater emphasis on certain aspects over others depending on needs. Project management is also very unique to how a company is structured. Some project managers will manage only certain aspects or sectors of a project while others manage the full lifecycle.
What are challenges specific to telecom project management?
Definitely the fast-paced nature of the industry. Network densification and the demand for ubiquitous connectivity are driving this. When you work in telecom, you're always thinking about the end user. We're streaming and downloading more, video conferencing, and working remotely more often. The more we use our phones and other devices, the more strain it puts on the existing networks.
Do you manage the entire lifecycle of a project?
I've found that end-to-end, full-lifecycle project management works better because you are able to see the bigger picture and see it through from start to finish.
For example, in a typical tower modification, there are five milestones with 10 to 20 tasks to reach each milestone. That means that there are 50 to 100 tasks to complete, each project. I manage about 450 to 500 projects at a time. So, that's about 22,500 to 50,000 steps to keep track of at once.
I started as a project coordinator by using my Excel skills. That worked great when our project volume was lower, but as the industry has evolved and the volume of projects continues to increase, our tools and processes have had to evolve as well.
How often do you interact with customers?
I have at least one touchpoint with customers every day. Our larger customers are accustomed to receiving daily updates on tower modification progress, so that takes up a lot of my time. We're always looking for opportunities to improve that process because it can detract from the actual progress we can make on their projects.
Reporting, responding to customer emails and requests, and updates take up about 80% of my time, and these tasks are repeated every day. In a full day, only about two hours are spent actually managing projects.
If you're a telecom project manager, the 40 hour work week doesn't exist. You're spending a minimum of 50 hours a week working.
For now, it's crucial to my role to have the right tools in order to stay organized. If you have alignment between project processes and the tools you're using to execute, you'll be in a good spot. If you can truly rely on your project management tools, life is a lot better.
What's the biggest lesson you've learned in your time as a project manager?
You can't be a successful project manager alone. Collaboration and teamwork are key to a successful project. Be willing to learn and communicate early and often.
Change is constant in the project management world, so being able to adapt and be flexible will help you grow as a project manager.
What's the biggest misconception about project management?
Some people think it's a glamorous job. There are long hours, numerous meetings, and the pressure to complete your project on time and on-budget — it can be stressful. The collaboration with different departments, vendors, and customers sometimes seems like it can be more captivating and intriguing than reality. It's hard work, but incredibly gratifying because we're serving our customers and, ultimately, the people using our customers' networks.
What's your favorite thing about project management?
I can't pick one, but I can narrow it down to three. Collaboration, team environment, and the culture that comes with being a part of a successful project management group. There is something about working together for a common goal, and completing that goal is very rewarding. I also enjoy sharing my knowledge with new project managers and, training them, and developing their skills.
Collaboration and teamwork are key to a successful project.
What do you anticipate are going to be the big challenges over in the future?
In the short term, time management will be one of the biggest challenges project managers face. Being able to effectively manage and prioritize time and tasks has been one of the biggest challenges, including daily activities, managing customer expectations, and forecasting the duration of tasks, milestones, and projects.
Challenges near term will be vendor management as we are moving to utilize more vendors to improve our cycle times and performance for the customer. Whenever there is a new vendor or someone new on the team, ensure that expectations and process are clearly defined and communicated is critical in being successful.
Managing workloads, customer expectations, and anticipating upcoming projects will be challenging in the longer term. The industry is changing rapidly with the addition of new, better technology that is built to enable project managers to manage their projects, not the other way around. We will be evaluating how these changes help alleviate our workload. It's crucial to be open to new technology because our industry is based on it.
What advice can you give to other project managers?
Don't be afraid to ask questions. Remain calm through the chaos of a project. Every project has a bump or two, and being able to remain calm, organized, and to think clearly will help overcome any challenges that may arise. Change is constant in the project management world, so being able to adapt and be flexible will help you grow as a project manager.
For more experienced project managers, I would advise being open to change and new technology to help improve their skills and be able to do their jobs more effetely. Also, never be afraid to learn something new.
It all really comes down to trust. This is really what you need to be a good project manager:
Organization

Knowledge of process

Relationship building skills

Willingness to learn
Most importantly, build trust through consistently delivering and communicating clearly. Have honest conversations with your customers, no matter the news you're delivering. If your communication is vague, trust declines because it's going to seem like you don't know what you're doing. To be able to instill trust, you need to be able to have real conversations.
The telecom industry is built on change and it will continue to evolve and adopt new technologies to propel us into an era of ubiquitous connectivity.
Learn about other project managers like you through our Projects Are Life program.