[PART I]
It's not news to anyone that streamlined workflows or processes generally result in tremendous savings in both time and cost. Indeed, it would be surprising if every business leader did not have several ongoing initiatives designed to optimize their overall effectiveness. After all, small improvements in productivity can be a key differentiator between yourself and your closest competitors or hitting board and investor targets. This is especially true for capital-intensive industries (telecom, utilities, etc.) where these efficiencies are even more pronounced due to their business models.
A new era
Maximizing operational efficiencies becomes more critical when you consider the impact of network densification, which has resulted in more site-based projects than ever before. For example:
The

telecommunication industry is anticipating a 50% increase in the number of small cell deployments between 2018 and 2020 in preparation for the release of 5G.

The

utility industry expects the number of projects to grow "significantly" in the next 10 years. Distributed energy resources (DERs), continued automated metering infrastructure rollouts, and other technological changes are all driving the increase in project volume.

The

smart cities industry, encompassing outdoor wi-fi kiosks, smart parking, upgrades to energy-efficient LED lighting, IoT sensors, etc., is expected to become a $1.56 trillion industry by 2020, up from $200 billion in 2017.
Each of these industries requires a huge volume of installations to make an impact. Yet, many of companies in these industries are trying to approach the challenge of network densification by using old methodologies that are inefficient when it comes to these types of projects.  
The significant increase in the number of projects, as a result of densification, is going to amplify the inefficiencies that exist in current processes. Therefore, it's important to ask:
How are you measuring your current effectiveness?

Where do you spend most of your time on projects: on value-adding activities such as analyzing results and forecasting, or with non-value-adding activities such as formatting pivot tables in spreadsheets?

If 10x more projects landed on your desk tomorrow, could you manage them successfully? What would hold you back?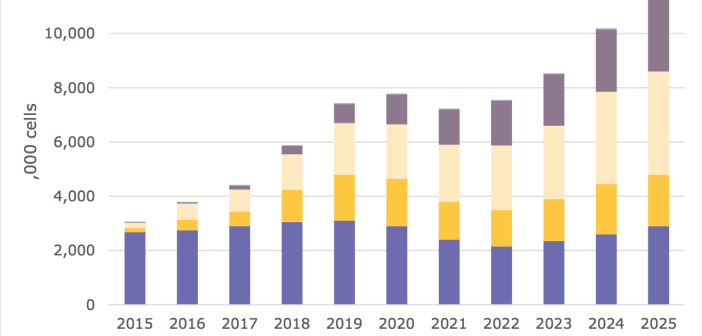 Small cell deployments are poised for a dramatic uptick (Image via Small Cell Forum)
You Need a Better Approach
After partnering with some of the most innovative companies to manage over $12 billion of capital projects and improve productivity for thousands of project managers, we have found that the most successful companies approach change management in three dimensions:

Strategic

Operational

Tactical
Addressing each of these components will help clarify the changes needed and tie them back to your organization's high-level objectives.
When you break up your thoughts into this structure, you start to see that your teams all have different responsibilities, breadth or depth of understanding, and different objectives during the planning and execution of your corporate strategy.  
Another way to think about this could be to compare these roles to those on a football team: the players that are on the field executing, the coaches on the sideline making the operational adjustments needed to accomplish the strategic objective, and the coaches in the press box that identify the strategic areas that are the keys to victory.
In part two of this post, we'll tackle how you can bring this approach to life.