Tower Engineering Professionals (TEP) has risen to the top as one of the best engineering design firms in the country. For the team at Sitetracker, this was no surprise. About a year ago, a group of Sitetracker employees had the chance to go onsite at TEP and experience their culture and dedication first hand. Right away, it was apparent that the company runs like a well-oiled machine. Fast forward to a year later, and the only thing that has changed at TEP is growth. After speaking with Kim Martin, VP at TEP about what it means to be named a top engineering design firm and how they got to where they are, it is clear that they rose to the top because they put people first, value culture, work hard, and invest in their processes.
Tower Engineering Professionals started from humble beginnings. In 1997, founders Pete Jernigan and Andy Haldane, two structural engineers, focused their efforts on inspections, mappings, and structural analysis. They bootstrapped the business and concentrated on getting work done. Their strong work ethic, customer-first approach, and entrepreneurial spirit helped lay the foundation that TEP is built on today.
They built on that foundation with great people. From customers to employees, TEP puts people at the forefront of everything they do, which is critical for their company culture. The company is guided by hard-working individuals in all levels of management and production that lead by example. "I think one unique thing about TEP is that all of our VPs, not from acquisitions, joined as interns. We grew up with the company as the company grew," said Martin, "I think that makes a big difference because we have a leadership team of folks who have been in the shoes of everyone at the company. We can empathize with the struggles of the job and appreciate the hard work everyone puts in."
TEP also does cross-department training. Cross-training results in empathy and another level of respect for coworkers and customers. Not only does TEP invest in the development of their current employees, but also their future ones. TEP is partnering with community college, Wake Tech, to offer a Telecommunications Tower Technician program to help prepare students for the high demand careers needed to develop the 5G and telecom infrastructure of the future.
The other half of the people equation is TEP's customers. For TEP, putting the customer first means providing the best possible service the only way they know how: by not cutting corners and doing it themselves. Over the years, they've added different areas of expertise in-house, starting with Environmental and Civil Divisions in 1998, and adding Mechanical, Electrical, Plumbing Engineering, Land Surveying, a fully outfitted Geotechnical Lab, and TEP Design and Build over the years. "We have always put our customers first, and by becoming a true in-house turnkey company, we are able to hit aggressive timelines and deliver great service to our customers," said Martin.
As TEP has grown, they have doubled down on culture and processes. "The people that succeed at TEP have an entrepreneurial personality. We are innovative in the sense if you have an idea and a business plan for it, and we can see a path for it, then we will let you try it," Martin continued "We have had a lot of success with that because the people who take the initiative usually make it work."
TEP expects its employees to take ownership of their role or project, but they don't do that by keeping information behind closed doors. The transparency throughout the company stems from solid processes and a single source of truth. With Sitetracker, TEP has everyone on the same page by having all information in one place. "We have a Sitetracker dashboard with financials, sales, and projects," Martin said, "Every employee, from the new intern to the VP, can see the same dashboard, which motivates people to take ownership and buy into the success of the company because they can see that what they are doing is helping to move the needle."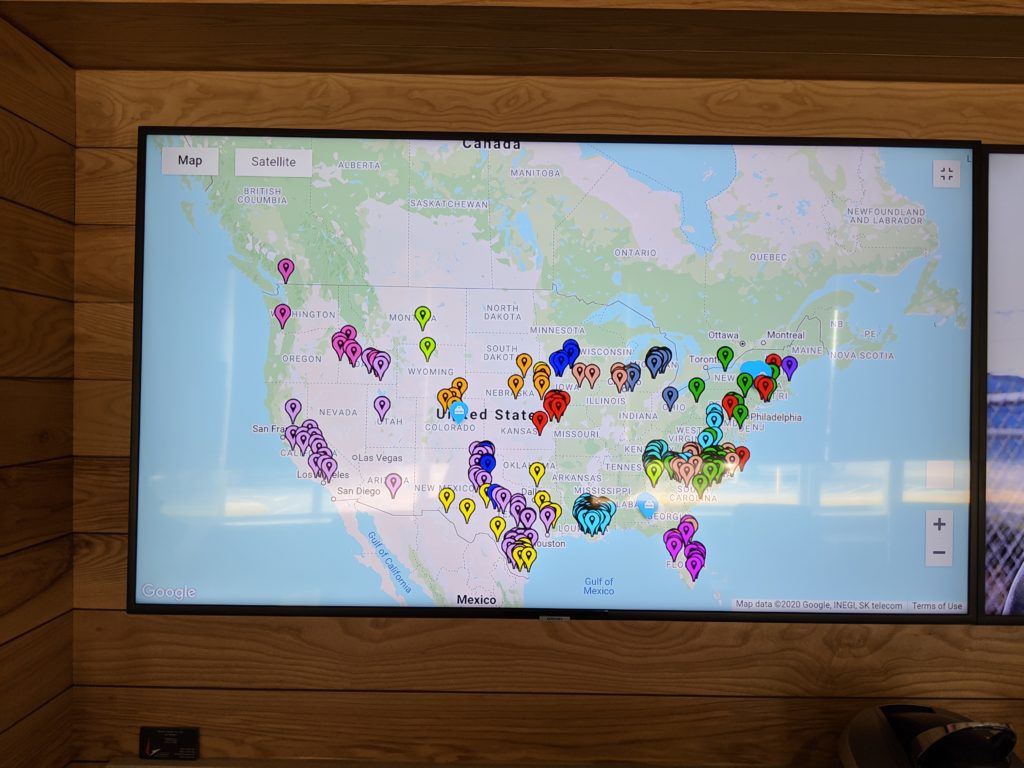 Growth and culture are the only constants for TEP. Since its acquisition by a Private Equity firm in 2014, TEP has acquired three more companies, specializing in site acquisition, fiber engineering, and construction. They have grown to over 75 professional engineers, 200 certified tower climbers, and more than 750 employees completing work in 50 states. "With the acquisitions, obviously the finances need to be solid, but before we get to that stage, we see if there is a culture fit which has helped maintain the integrity of the culture," said Martin, "Sometimes during an acquisition, culture changes. We are proud of how our culture has remained the same."
TEP isn't stopping its growth anytime soon. "For those of us who have been here from the beginning, it is surreal to be named as one of the top engineering design firms in the US," said Martin. "A lot has changed, and we have grown and are still growing, but at the core, we are the same: we have a great work ethic, put our customers first, and like to have fun. We have team-building exercises, ping pong tournaments, hot dog eating contests, no dress code, and a climate that stimulates long term employment and long term friendships." TEP is a great example of what happens when you invest in your people, culture, and processes. If you want to learn more about how your team can reach the heights of TEP, go here.