Sitetracker's latest release, Release 39, delivers numerous enhancements, a few bug fixes, and overall improved user experience in key parts of the platform. As a true Software-as-a-Service (SaaS) solution, Sitetracker delivers monthly improvements and ensures enterprise functionality and security.
Form Designer
Manage Access to Form Templates
Mark a Form Template as "Active" to make it accessible to end-users when making Forms.
Once a Form has been created from a Form Template, you are prevented from deleting that Form Template.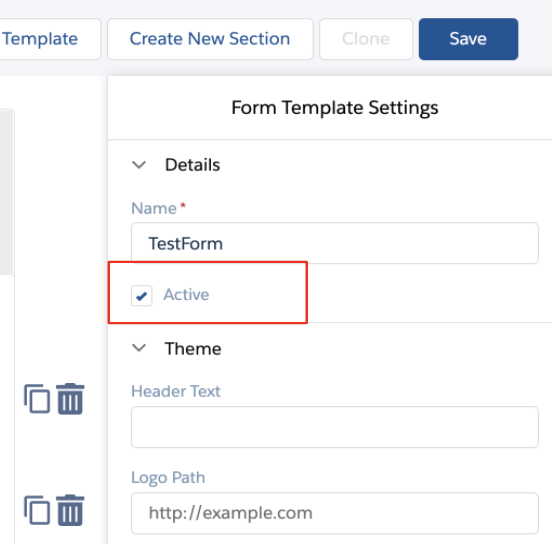 Maps
Mobile Map Marker Clustering
Administrators can enable map marker clustering for mobile maps via the map configuration.
The end-user can zoom out to view clusters over a greater area and zoom in or tap on a cluster to view individual map markers.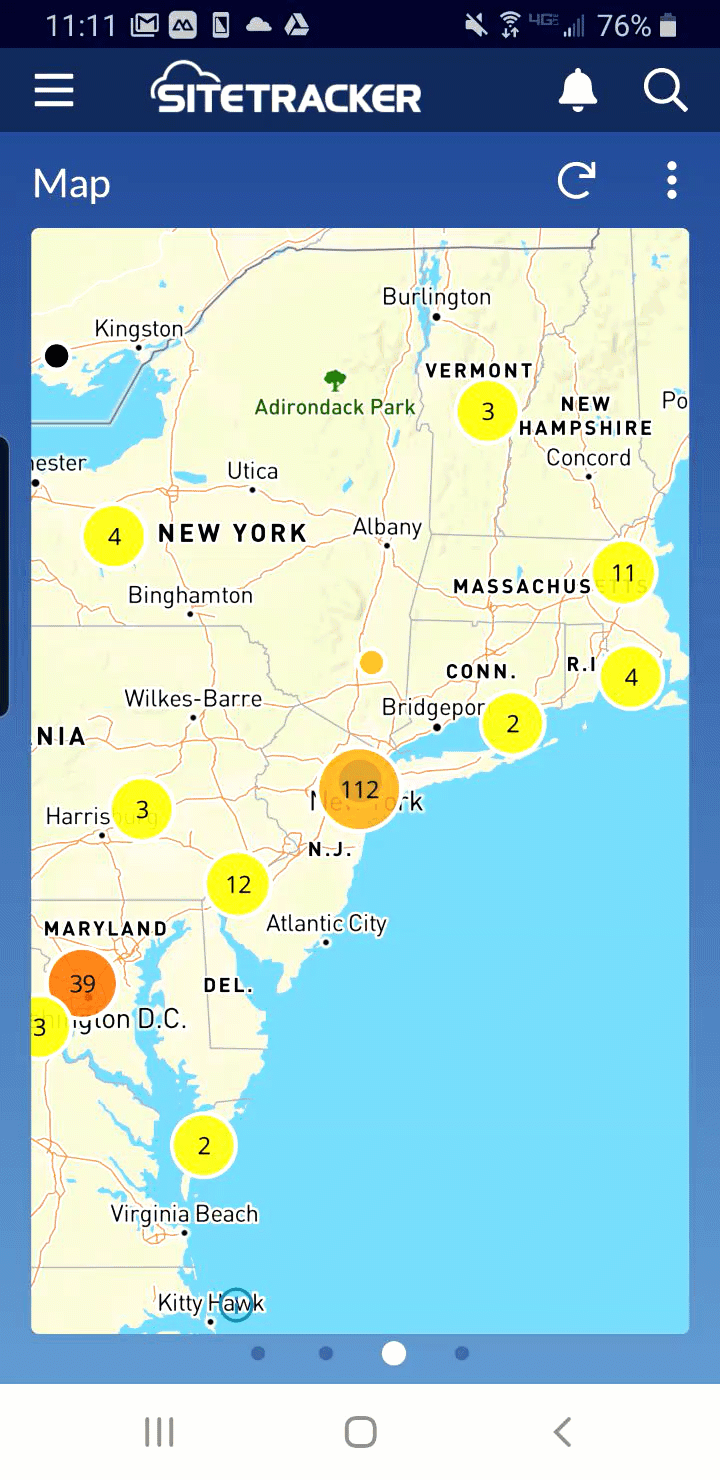 Enhancements
Trackers
Create Trackers for Custom Objects with the Same Name as Packaged Objects
Trackers no longer add a namespace to a custom object, enabling Trackers to be created for the custom object.
Enhanced Tracker Filters
Tracker filters interpret picklist values with commas as "Acme, Inc" instead of on the values "Acme" and "Inc".
Sitetracker Mobile
Encryption for Sitetracker Mobile
All data in Sitetracker Mobile is encrypted.
Enhanced File Upload
View and annotate a preview of a file as the upload to mobile is in process.
More Robust Recent Items List
The Recent Items list displays any object record that was recently modified, not just Sites and Projects.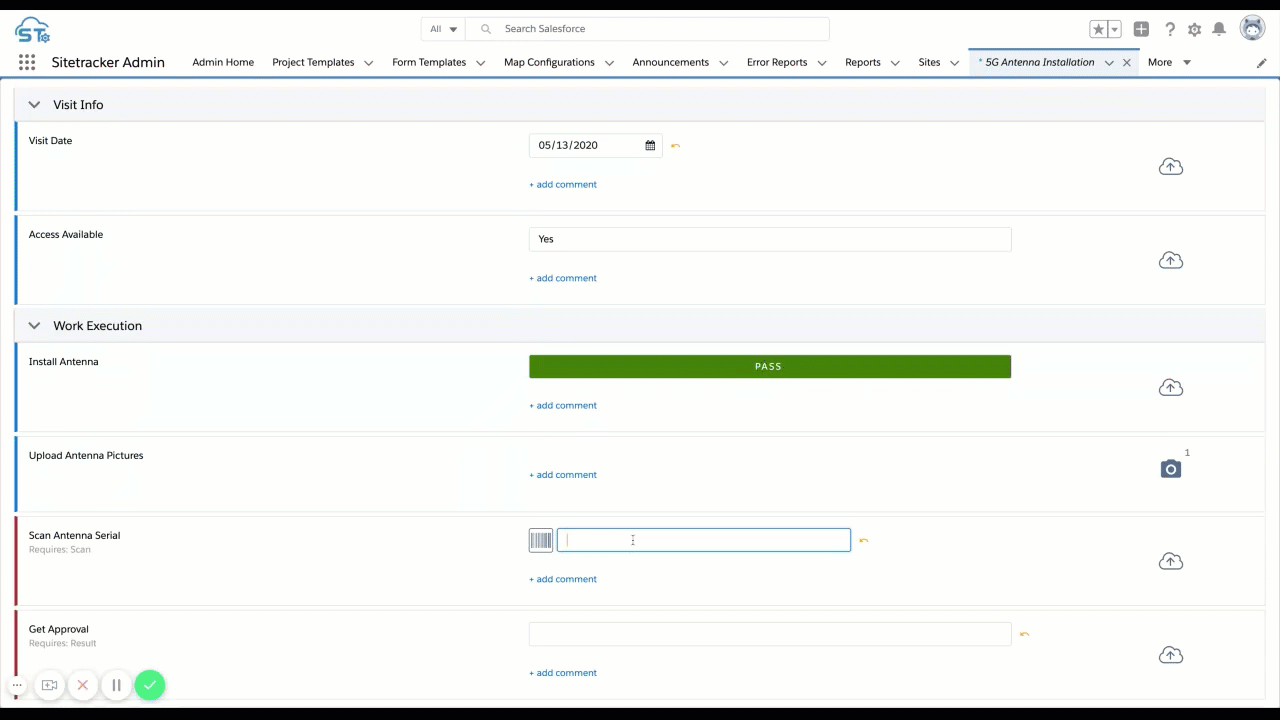 Maps
Increased Usability of the Map Configuration Page
Some of the fields on the map configuration page have been moved to support the workflow.
Manage Zoom Level and Clustering on the Internal Map
Choose a maximum zoom level for having map markers clustered on internal maps. If the map user zooms into the map closer than this level, markers at the same location are shown individually and do not display as clustered.
File Storage
Require Users to Select a Category on File Upload
Administrators can require that users choose a category from a predefined picklist when they upload files using the standard StFileFolderBrowser component. This is the component that is included with Projects and Forms and which works across all file storage providers.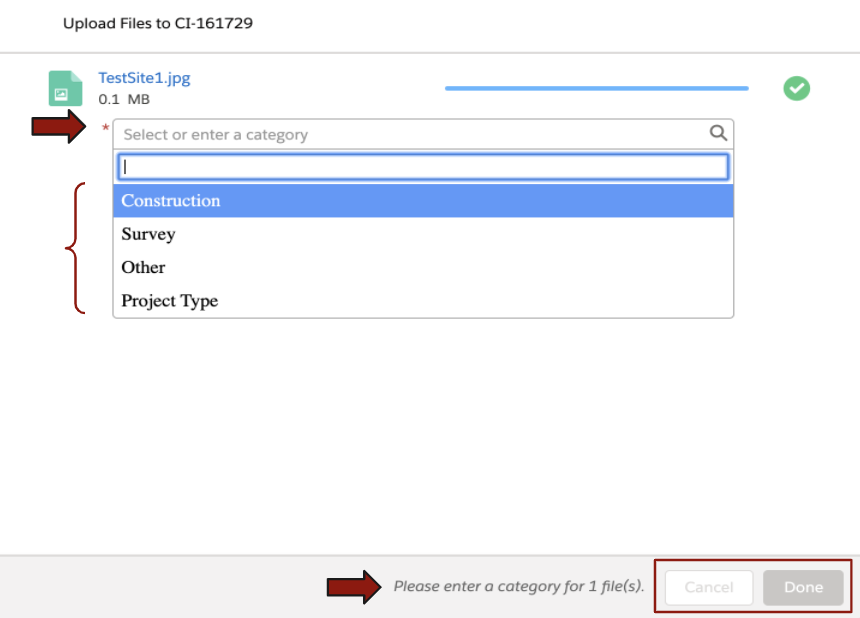 Leases
Support for Compounding Escalators
If a recurring Lease Payment, specify whether that escalator is compounding or not. This applies to both Amount and Percentage Escalators. In addition, specify the date at which the escalation is applied. This will recalculate any pending payments after this date on this payment term.
Sitetracker Custom Lightning Components
Enhancements to Sitetracker Custom Lightning Components
Update or remove the title at the top of the ST Related list custom lightning component using the Show Related List Label.
Include grandparent fields on a record page using the ST Field Set Form custom lightning component.
The ST Files custom lightning components supports inline editing for picklist, date, and text fields.
Work Management
The Sitetracker team has been hard at work to deliver a major product to help field crews doing high volume, distributed work. Stay tuned for an exciting announcement!
Not yet a Sitetracker user? Click here to get a personalized, live demo with one of our solutions experts!