We built Sitetracker as a customer-focused platform, understanding that asset-based project challenges are different from other project types and require a unique approach. Customers can customize their Sitetracker platform specifically for their needs and my team always looks forward to setting them up for success. But, to make all of this possible for our customers, we built our own version of Sitetracker that's custom made to handle a scope-based project.
One of the most exciting things I do as Director of Implementations is kicking off new customer implementations. Many customers ask how we plan to manage this type of implementation. This is my favorite question to answer because I get to let them know that we will be drinking our own champagne — using Sitetracker to manage their Sitetracker implementation.
Walking the walk
First and foremost, we scope new implementations realistically, but it's important to us that we make sure our customers have the best possible Sitetracker experience, so we prioritize and continually reassess to ensure that we deliver the best possible outcome to our customers. Our customers are unique and each implementation is driven by its own specific criteria. In addition to making sure we capture requirements, we listen carefully and record all customer requests — nothing falls off the list.
"No platform is better at facilitating project execution than Sitetracker."
Manage scope-based implementations with Sitetracker
The ability to execute is our first priority and no platform is better at facilitating project execution than Sitetracker.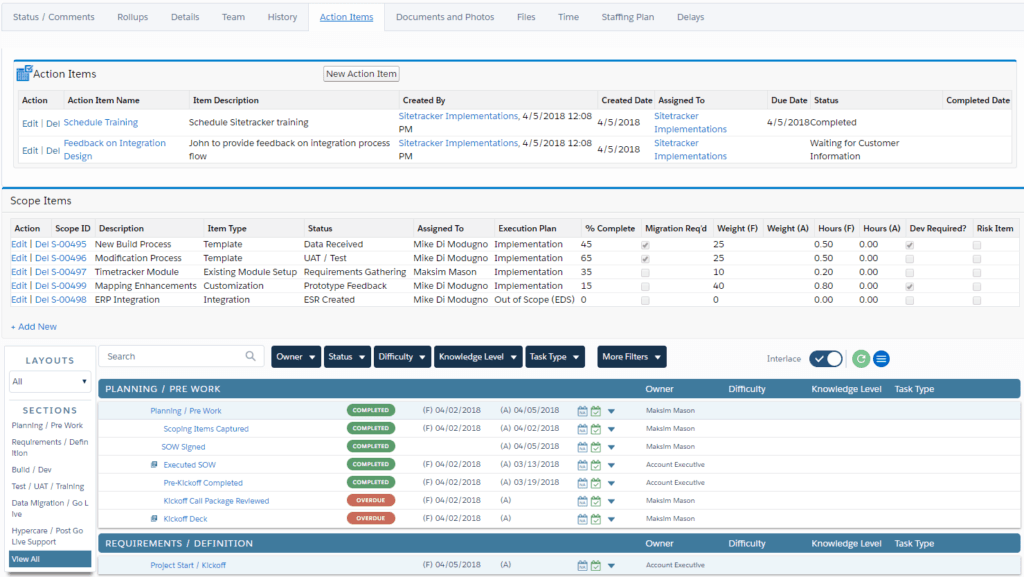 Every Sitetracker implementation starts with a clear set of deliverables. This list of deliverables, or implementation scope, will vary in size depending on customer requirements. It is important to the success of each implementation to not only manage the timeline but the status of every deliverable outlined in the scope, as well.
Our scope-based project management solution allows implementation leads to serve our customers best by:
having quick access to our playbook and accelerators (templates for repeatable tasks)
capturing and documenting any unforeseen delays
tracking time spent on each item of scope directly
using resource management to forecast resource availability
Customers can log into our project management solution so we can collaborate effectively by:
creating and updating action items in advance of status calls
sharing files associated with each deliverable
accurately monitoring weekly implementation accomplishments and goals
managing project timelines and milestones using a template
managing the status and progress of each deliverable
automatically forecasting important milestones
This kind of direct collaboration enables transparency between implementation leads and Sitetracker customers. Because all of our implementation projects and all of their associated tasks and milestones are managed in Sitetracker, we can easily get an accurate and live view of every project in progress. Besides reports and dashboards, we use Trackers, a powerful yet intuitive way to visualize and edit many projects, tasks, and more, at once.
My team lives in our implementation tracker: if the update is not in the tracker, it doesn't exist. The whole company has a real-time view of each implementation and they can drill down into the status of each deliverable. Besides ensuring that we deliver on-time and on-budget to our customers, we can continually improve our own processes and methods. By reporting on how long a particular feature takes to implement, we can continually improve delivery times.
Just as the best chefs always taste their own food, by using our own platform to manage implementations, we improve our recipe for project management, for ourselves and for our customers.